Making Strategy Happen: Three Ideas to Consider
Most organizations have plans that deal with the challenges that shape growth, performance and change.  These forward plans reflect assumptions about the near-term and the long-term.  They also reflect the natural goals of the enterprise, along with a strategic narrative in some form.  These plans provide a roadmap for making decisions, managing risk and creating new strategic and economic value, for the organization as well as the stakeholders.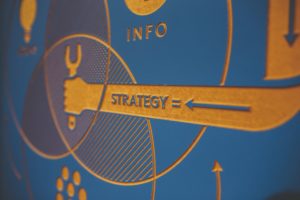 So far, so good.  But how do we assure that these plans actually become something?
Three Ideas That Matter Today
The most important aspects of making strategy happen today are defined and orchestrated through well-engaged teams that know the essence of the work to be done.  Consider:
1. Purpose-Driven Teams, as Agents of the Strategic Agenda
Start with the idea that strategy is more than statements, data decks, models and platforms.  Strategy entails:
Direction, Major Choices and Critical Focus
Integration, Processes, Systems, Networks, Resources
Execution, Targeted Actions, Collective Impact
Well-engaged teams start with a clear and present appreciation for the strategic agenda and their role in making it happen.
2. Talented People, Developed and Matched in Teams
Start with the idea that individual talent is curated and combined in teams that become powerful organizational assets:
With demonstrated competence and experience
With powerful interaction and communication tracks
With balanced leadership and management strengths
Well-developed teams are designed for the work to be done, the challenges, the surprises, the strategic journey of the organization.
3. Effective Teams, The Foundation of Strong Culture
Start with the idea that effective teams are forged in trust, energy and power, and the capacity for continuous learning and progress:
Making sense of the organization's values and goals
Making sense of priorities, and the use of resources
Making sense of readiness, attention and resilience
Well-governed teams are the evidence of everyday thought and behavior that defines and advances strong, positive culture.
These ideas matter a great deal today.  They matter because more and more of the work to be done in organizations is highly dependent on Teams.  More and more of the work to be done is dispersed to Teams that are expected to drive progress, make decisions, solve problems, manage risks, craft options and build insights.  Teams matter, because they provide the crucibles of learning and experience that shape knowledge, perspective, wisdom, judgment and competence. Leadership and management depth charts are formed through team expertise and experience.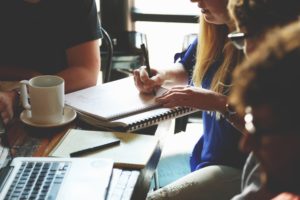 Strategy and Organization
Teams in different forms have evolved as organizational elements that address strategic work to be done, across functions and boundaries, with and without clear charters.  The three ideas defined above are the subject of our new fieldbook entitled Strategic Teams and Development planned for release at the end of the year.  The fieldbook is designed as a resource for individuals and teams at every level of the enterprise.  From every angle, Strategic Teams and Development speaks to the ideas that contribute to better, stronger, smarter, faster teams that are focused on results, on progress, and on making strategy happen, taking care of today and getting ready for tomorrow.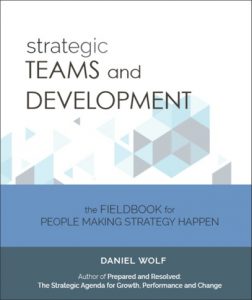 Daniel Wolf is the President of Dewar Sloan, a consulting group with expertise in strategy and governance.  He is the author of Strategic Teams and Development — as well as Prepared and Resolved: The Strategic Agenda for Growth, Performance and Change.